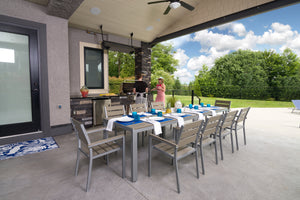 Outdoor Dining Sets - A Perfect Way to Enjoy Your Meals Outside
You're searching for the perfect outdoor dining set to host summer barbecues and dinner parties with friends and family. At CorLiving Furniture, we've covered you with various styles, materials, and sizes.

Our outdoor dining sets are designed to offer comfort and style while withstanding the elements. So whether you're looking for a cozy bistro set for intimate meals or a spacious 11-piece dining set for large gatherings, we've got you covered.

If you're tight on space, our 5-piece Bar Bistro Set or the 3-piece Patio Bar Set is perfect. These sets are compact, providing comfortable seating for a small group. After a classic touch, the 5-Piece Wicker Patio Dining Set is an ideal choice. With its beautiful wicker design, this set will add a warm and inviting atmosphere to your outdoor space.

Our 5-piece or 7-piece Aluminum Dining Set is perfect for those who prefer a contemporary look. With their sleek and modern design, these sets will add a touch of sophistication to your outdoor space.

For those looking for a more effective seating option, our Brisbane Outdoor Dining Set with Dining Chairs 11pc and the Brisbane Outdoor Dining Set with Dining Chairs 12pc are perfect. With their spacious design, these sets can comfortably seat a larger group of people, making them ideal for summer gatherings and outdoor parties.

Our 7-piece outdoor dining sets are also great for those looking for a more spacious seating option. The Weather Resistant Patio Dining Set, 7pcs, and the Patio Dining Set, 7pc, provide ample seating for your family and friends, making them perfect for outdoor dinners and barbecues.

In conclusion, CorLiving Furniture offers a wide range of outdoor dining sets to suit your needs. So, we've covered you whether you're after a classic, cozy bistro set or a modern, sleek metal set. So, what are you waiting for? Start browsing our collection today and find the perfect outdoor dining set to fit your style and space.